Please join us in congratulating our latest selection of Small Grant recipients for Round 1 of 2023. This time around, we have awarded 6 LGBTQIA+ creatives, communities, businesses and organisations with a grant of up to $750 towards a project that benefits their local LGBTQIA+ communities. For information on each recipient and their project, keep reading.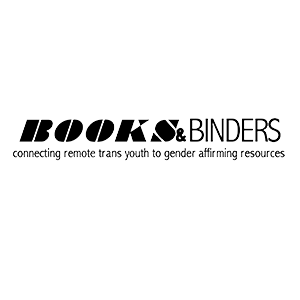 Books&Binders
Books&Binders has been conceptualised by the trans community in nipaluna/Hobart as a mechanism for providing trans youth and the wider trans community with access to gender affirming wear and resources. The project as a whole will rely on the purchase of a large van, books (to loan and purchase), gender affirming gear (binders, packers, gaffs, bras etc to be tried on and for purchase), some of which will be made possible with this small grant. The access to trans affirming resources and wear is scarce in lutruwita/Tasmania and concentrated in the capital city. Books&Binders want to provide a moveable space that gives trans folk of the entire state a space to feel comfortable and safe to be themselves.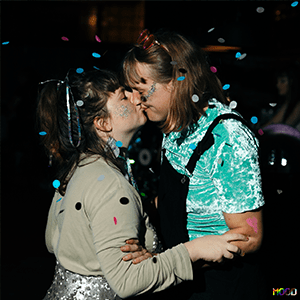 Worlds End
WORLDS END currently sponsors MOOD Queer Launceston events & co-op to run all publicity and marketing materials for LGBTQIA+ safe space events and education modules. Launceston, where MOOD is based, has recently experienced a number of hate crimes against queer people and MOOD have been strong public advocates for inclusion, care safety and community.
Using their small grant, WORLDS END want to build a web portal to house information about Tasmanian queer resources and events, and to triangulate some of these resources and activities together for the community to access online as well as in person.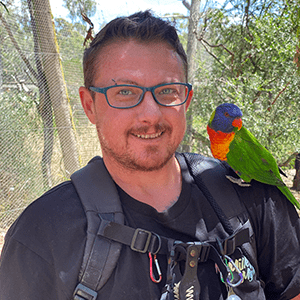 TLeighs World Vision
Teague Leigh is an autistic trans man from planets unknown, currently residing in Naarm. Once upon a time he was anthologised in various works and performed his spoken words around the country. In 2012 Teague developed a cognitive disability, schizophrenia and was also diagnosed with autism. As words became harder to obtain, Teague substituted writing for photography, something he had not pursued for decades, when he learnt to develop his analog images in darkrooms. Now Teague is letting his landscape images speak for him.
Teague's small grant will help to fund his upcoming exhibition, The Reclamation of Terra, at Sol Gallery. The exhibition, including a public launch, will comprise a body of photography Teague has been developing since August 2022, recently showed as part of the Yarra Sculpture Gallery's Summer Residency program through Arts Access Victoria. As a person living with autism, Teague finds exhibitions featuring his current work are a safe opportunity to voice his emotions regarding his social and political intent and helps him to feel a part of his communities.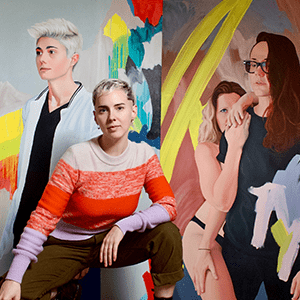 Kim Leutwyler
Kim Leutwyler creates paintings of LGBTQ+ identified and allied people. Her work explores the concepts of glorification, objectification and modification. Throughout the work she pushes and pulls the boundary between realism and abstraction, highlighting the layers and complexity of identity, gender and beauty.
Figuring Ground exhibition starts from the premise of where and how we stand, as queer, constituted beings on vibrant and unstable ground. Through queer framings of the classical western convention of the figure/ground relationship, it seeks to draw out intimate contact zones for queer worldmaking, as a means to collapse and expand traditional self/world binaries. In addition to this central exhibition, Kim is developing a body of work called Re-figuring Ground involving artists engaging with the Grafton Regional Gallery collection to develop queer retellings. Re-figuring Ground will be an opportunity to be critically reflective of the museum and gallery practices that have shaped Grafton Regional Gallery as an institution, and is partially funded by this small grant.
Newman Neighbourhood Centre
The Newman Neighbourhood Centre's goal is to support a strong, vibrant and connected community to enhance the quality of life for families and individuals in Newman, a remote mining town in Western Australia.
This year, Newman Neighbourhood Centre held a Pride Week celebration, across 4 days in the first week of June. The Pride Week events included inclusion training for staff, drag bingo, drag story time, a drag make-up lesson, a family rainbow run and a street party on the final day, with LGBTIQA+ comedians and performers including dressing some town members up in drag. The PFA Small Grant contributed to the running of Newman Neighbourhood Centre's Pride Week celebrations.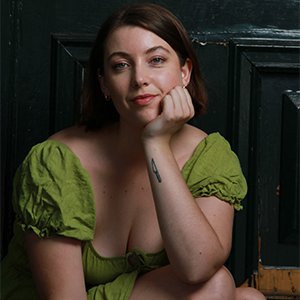 Jamila Main
Jamila Main is a true slashie artist in the first five years of their practice. Jamila works predominantly as an Actor and Playwright, and additionally as a Disability Inclusion Consultant and Dramaturg.
The PFA Small Grant goes towards the a residency at La Mama theatre in July for the development of Jamila's new play 'How to Eat Rabbit' with community showings on 7-9 July. During the residency, Jamila will work with performer and 3D digital artist Nory, an acclaimed Black advocate. For 5 days, she and Nory will interrogate the current award-winning draft of the play, developing the two characters, and experimenting with immersing 3D digital art in the world of the play. Zoe Boesen, director of Loom Arts and Management, will serve as an outside eye, offering provocations and advice for the play's development. This work will provide much needed queer, trans, disabled, and POC representation, telling stories still not often platformed.